Azienda Agricola Antonio Failoni
Staffolo | Marche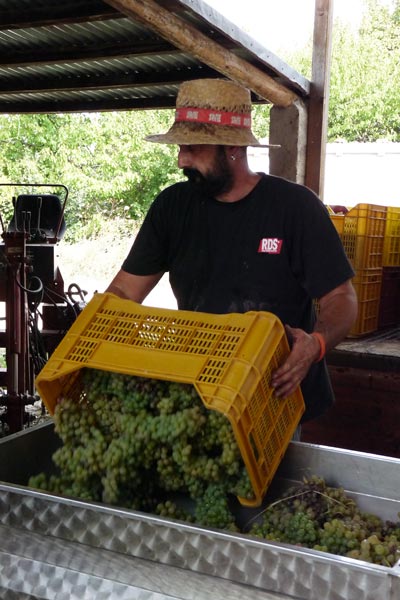 In the quiet of the Marche on Italy's east coast, a rebel with a cause is shaking up this regional appellation for the better. Winemaker Antonio Failoni's goal is to craft wines from native Verdicchio that capture this white grape's true character: textured and supple, abundantly spiced.
More than 30 years ago Antonio moved to the Marche from his native northern Italy, enchanted by the silence of these rolling hills and verdant valleys, the scent of the sea carried in warm winds from the coast. He built his winery small plot by small plot not far from the town of Staffolo – a mix of vines and 200-year-old olive trees and wild countryside.
Locals were surprised by his audacity, yet the call to be a "vignaolo" – a real farmer of the land and vine – was too strong to ignore. Antonio worked with regional winemakers to learn better the needs and challenges of local grapes; and since his first harvest so many years ago, there's been no looking back.
Antonio's vision for Verdicchio is one of rich, unadulterated fruit – a wine with soul and body, a white that puts texture and spice and intensity center stage. His Verdicchio, he has found, stands apart from many other bottles in the Verdicchio dei Castelli di Jesi appellation — wines crafted in a more simple, easy-drinking fashion. So much so that he's decided to leave the appellation altogether, with the idea that a Marche Bianco wine – his pure Verdicchio – will open the eyes of wine lovers to what can and should be the true character and limitless potential of Verdicchio from the Marche.
Today Antonio works in the fields and cellar with his son Rocco, who shares the same passion for great wines – and love for heavy metal music – as does his father.
FARMING & WINEMAKING
Estate vineyards sit at 1,200 feet above sea level on a series of rolling hills, and face south/southeast. Soils are mostly sandy, with veins of limestone.
Antonio has cared for both his vineyards and olive trees according to organic principles since the start of his project; he is also officially certified.
Grapes are harvested by hand. For the Verdicchio, grapes are pressed directly and fermented on indigenous yeasts in temperature-controlled tanks. The Esino Rosso is destemmed, fermented on indigenous yeasts in tank, then aged in French oak barrel and tank.
Marche Bianco
Marche's native white grape, Verdicchio, has been cultivated here since at least the fourteenth century. Verdicchio as it was traditionally made is a wine of texture and soul, abundantly spiced and heady–more fine white Burgundy than a simple, coastal-sipping white (as many contemporary Verdicchio dei Castelli di Jesi wines can be). Winemaker Antonio Failoni wants to turn back the clock with this Marche Bianco, his pure Verdicchio wine, to show the limitless potential and true character of this beautiful Marche grape.
Download fact sheet (PDF)
Rosso Piceno
Full-bodied, earthy, divine: Rosso Piceno is the heart and soul of the Marche, a red redolent of ripe red fruits, light pepper and herbs. A fresh and juicy blend of Montepulciano, Sangiovese and Merlot. Exactly what a weekday pizza or homemade pizza requires.
Download fact sheet (PDF)
Esino Rosso
The very small Marche appellation called Esino takes its name from the Esino River, which flows through this verdant, hilly region. It is typically a more elegant and silky wine than Rosso Piceno, as appellation soils tend to be more clay-rich. Winemaker Antonio Failoni showcases his love for native Montepulciano in his Esino Rosso, for a textured and suave, purple fruited wine with lots of spiced character. 
Download fact sheet (PDF)