Azienda Agricola Caravaglio
Salina and Lipari | Sicily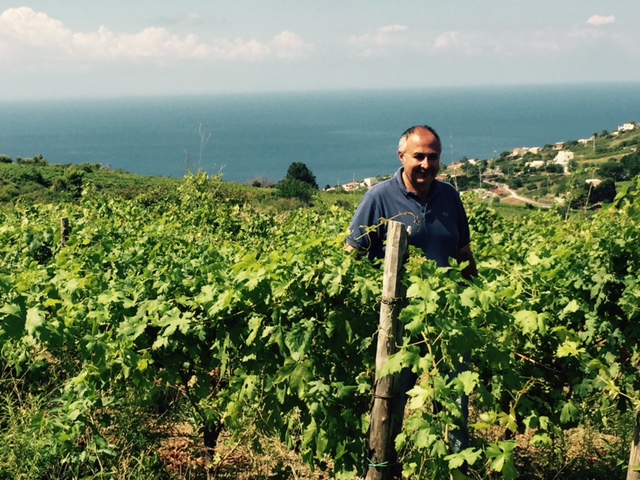 The history of artisanal winemaking in the Aeolian Islands off the coast of Sicily essentially begins with five Spanish families, one of which is Caravaglio. These noble pioneers were invited to travel to these wild, volcanic islands in the early 1500s to develop agriculture.
Thus for more than 500 years, the Caravaglios have cultivated wine grapes on Salina and Lipari, establishing early on the traditions and practices that would be followed for generations. Winemaker Antonino Caravaglio's ancestors were certainly among the first to partner with Venetian traders bearing rootstock from Greece, planting the original Malvasia delle Lipari and Corinto Nero vines.
Few vine-growing regions in the world can claim such an unbroken chain of organic cultivation. Grapes on these wind-swept hills have always been cared for naturally, cleansed by the sea-salty air of the Mediterranean and protected by the island's mineral soils, which also kept the phylloxera blight at bay.
Caravaglio's peerless Corinto Nero wine hails from these pre-phylloxera vines, many of which are more than 150 years old. This red grape has called the volcanic caldera of Lipari home for centuries and is a truly ancient variety, with its five-point leaves and naturally seedless fruit. Today Caravaglio is the sole artisan who has preserved Lipari's traditions by bottling a pure Corinto Nero wine.
With each sunrise over the azure of the placid Mediterranean, you can find Antonino, his wife Elisa and their daughter Alda collecting organic capers that grow amid wild herbs on Salina's steep cliffs or tending their organic vineyards by hand.
Each bottle of their wine is a breathtaking reflection of its origin: the light smoke in Corinto Nero's aroma reflects its volcanic terroir while Malvasia's refreshing saline tang reminds of sea spray.
FARMING & WINEMAKING
Antonino Caravaglio was among the first artisans in Sicily to become organically certified in the 1990s; historically, his family's vines and caper plants for centuries have been farmed according to organic principles.
Grapes are harvested by hand and fermented on indigenous yeasts in temperature-controlled, stainless steel tanks. White wines are aged in tank on fine lees for two to three months; red wines are aged on fine lees in a combination of 500L French oak casks and tank for one month. Very little sulfur is added during the winemaking process, to ensure the grapes' natural flavors are allowed to express themselves fully.
Malvasia Bianco Secco Salina
Malvasia is a white grape native to Sicilia and grown on volcanic soils in Malfa district of Salina, the highest quality growing area on the volcanic island. Lemon and sea salt, bright acidity; a flavorful reflection of this sea-inspired terroir.
Download fact sheet (PDF)
Malvasia Secca di Tricoli 'Infatata'
An organic, single-vineyard selection. 'Tricoli' is shaped like a triangle and stretches up the steep slope of an ancient volcano in the Malfa district of Salina (the highest quality vine-growing area).
Download fact sheet (PDF)
Malvasia Secca Isola di Salina 'Occhio di Terra'
A special selection of Malvasia grapes from the volcanic island of Salina. A brief maceration on the skins gives this "island" wine more depth and complexity. Just the wine for a grilled steak of swordfish enjoyed as the sun sets off the coast of this stunning Aeolian island.
Download fact sheet (PDF)
Corinto Nero 'Nero du Munti'
On the island of Lipari, this five-acre, single-vineyard sits in the crater of an extinct volcano called Fosse del Monte. Corinto Nero is an ancient red grape variety, having five-point leaves, and is naturally seedless. Some 80% of the vines here are over 150 years old; many are pre-phylloxera rootstock.
Download fact sheet (PDF)
Malvasia delle Lipari Passito (Malvasia delle Lipari, Corinto Nero)
This refined sweet wine made from dried Malvasia grapes is an essential part of the vinous history of the Aeolian islands. Grapes are harvested from the volcanic slopes of Salina by hand and set to dry on mats in the sun for about a month. They are then fermented on indigenous yeasts and aged in both tank and oak barrel for six months. Deeply golden, with aromas of citrus, orange water, honey and almonds; succulent and lively at once. (500ml bottle)
Download fact sheet (PDF)