Azienda Agricola Musto Carmelitano
Maschito | Basilicata
Farming in the heart of the Vulture is more than a passion for the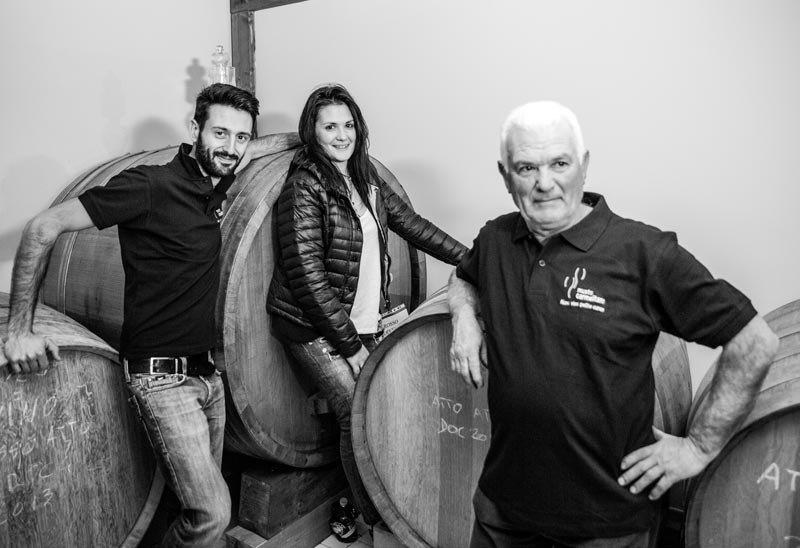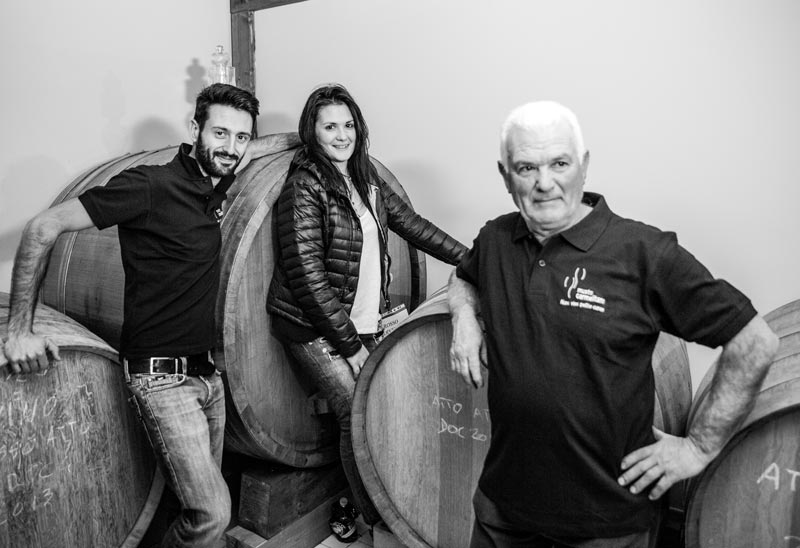 Musto Carmelitano
family; it's a calling that's been passed down from generation to generation for more than 100 years.
Elisabetta Musto Carmelitano and her brother, Luigi, are the driving force behind this family estate. Neither sibling formally studied winemaking, but both have rather lived the craft, learning from family members how to care for Aglianico vines and make their wines.
Maschito, the literal heart of the Vulture region, has always remained deeply significant for the Musto Carmelitano clan. Francesco Carmelitano was born in this village surrounded by Aglianico vines, yet like so many families from southern Italy, for a time immigrated abroad—but he always longed to return to the land.
After just a few years he came back to Maschito (plus a young Elisabetta, born in England) and with his brother Musto, reclaimed from his father and uncle a small farm and vineyards.
Musto and Francesco's passion for the land and the vine—not to mention an intense work ethic stemming from serious integrity—was passed down to Elisabetta and Luigi. So much so that they turned away from other professions to stay in Maschito, reconnecting with the vineyards that their great-grandfather planted with his own hands.
For years the family sold their grapes to other local producers, but Elisabetta always felt deep down that her family's older-vine Aglianico needed an opportunity to express itself individually. She knew that Aglianico is a wine of wonderful natural balance, yet was disappointed by the over-extracted nature of many wines produced locally. Musto Carmelitano wines effortlessly capture Aglianico's elegance and beauty.
Today, the family's modest yet modern wine cellar stands surrounded by fruit trees and an organic vegetable garden. Their older Aglianico vines, a stone's throw from the family village, stand out as verdant and lush, in stark contrast to neighboring vines that aren't cared for organically. You can tell that these vines are not only the family's livelihood, but their life.
FARMING & WINEMAKING
The family cares for three separate Aglianico vineyards, all located on the southern slopes of Monte Vulture at 2,000 feet above sea level. Soils are a mix of clay, volcanic lava and chalk. The estate since the 2010 vintage is organically certified.
Many of the family's oldest vines were planted by Elisabetta's and Luigi's great-grandfather. Elisabetta's uncle and father own the vineyards; Elisabetta and Luigi craft the wines and run the estate. The integrity with which the family manages their labor of love—a quality that is evident in their harmonious, honest wines—is what sets their craft apart from other Vulture producers.
Vines in the 'Pian del Moro' vineyard are on average 80 years old, with some vines more than 100, and are trained in a traditional "alberello" planting. Vines in the 'Serra del Prete' vineyard are on average 45 years old; vines in 'Vernavà' are 25 years old.
Friend and family harvest grapes by hand. Grapes are fermented on indigenous yeasts in temperature-controlled, stainless steel tanks. Wines are aged in either steel or cement tank, and are bottled unfined and unfiltered.
Aglianico del Vulture 'Maschitano Rosso'
Elisabetta selects ripe fruit of younger vines from the family's three organic vineyards, all located at 2,000 feet above sea level on the southern slopes of Monte Vulture. Racy, tangy red fruit flavors, with violet/lavender aromas and suave tannins. Maschitano means "of Maschito," the town where the family lives and their cantina is located.
Download fact sheet (PDF)
Aglianico del Vulture 'Serra del Prete'
Elisabetta selects ripe fruit exclusively from this high-altitude vineyard, with its mix of volcanic and clay soils; vines are on average 45 years old. 'Serra del Prete' means "the priest's garden," as the land looks like a country priest's top hat, with a hill in the center, surrounded by two plateaus.
Download fact sheet (PDF)
Aglianico del Vulture 'Pian del Moro'
The estate's top selection, 'Pian del Moro' is a piece of Basilicata history; here 100-year-old vines grow on pure volcanic soils at altitude. Winemaker Elisabetta Musto Carmelitano's grandfather planted many of the field's "younger" vines, now around 80 years old. A deeper, more complex Aglianico that retains the estate's silky texture and impeccable balance.
Download fact sheet (PDF) 
Aglianico del Vulture 'Etichetta Bianca'
A special, no-added-sulfites Aglianico, sourced from the estate's oldest vines (more than 100 years old) and crafted only in the very best vintages. This "white label" Aglianico pulls the fire from this sun-blessed, volcanic land and places it in a bottle; intensity, structure, suave fruit — it's all here. Very limited production. 
Download fact sheet (PDF)