Azienda Agricola Piero Busso
Neive | Piedmont
The family estate of Piero Busso is a leading name in Barbaresco for its dedication in reflecting the natural elegance of Nebbiolo from Neive.
Indeed, of all the "big" names in Barbaresco, it is Busso who makes true wines of the soil, each carefully selected cru telling the honest, generations-deep story of why this part of Piedmont is so enchanted.
Piero Busso's father planted in 1948 by hand the Nebbiolo vines that today wrap around the family's house and cellar in cru 'Albesani.' Now Piero's son, Pierguido and daughter, Emanuela, work side by side with their father and mother, Lucia, in crafting the family's wines.
Three of the estate's four crus – Albesani, Mondino and Gallina — are located in Neive, where Barbaresco's highest-altitude vineyards are found. The fourth, San Stunet, is in Treiso, at the southern end of the appellation.
What is striking when you taste these Nebbiolo wines is not a "house" style but a symphony of flavors and textures unique to each vineyard. This is not "baby" Barolo, but Barbaresco writ large, standing proudly apart with its suave tannins, silky texture and endless depth.
FARMING & WINEMAKING
Three of the family's cru vineyards are located in Neive (Cru Albesani Vigna Borgese, Cru Mondino, Cru Gallina) and the fourth in the south near Treiso (Cru San Stunet). Neive's vineyards are some of the highest-altitude plots in Barbaresco; wines from Neive are also known for their suave tannins and elegant, aromatic profiles.
Vineyards are cared for according to organic principles, and the estate as of the 2019 harvest is officially certified. The family plants cover crops between vine rows to control pests and moderate vine growth. Most work in the fields is performed by hand, by Piero Busso and his son, Pierguido.
Grapes are harvested by hand in small crates and destemmed before fermenting on indigenous yeasts in either temperature-controlled, stainless steel tanks or wooden cask fermenters, called "tine." Macerations are long and slow, for some wines up to 60 days. Wines are aged in large, neutral oak casks ("botti"), and bottled unfined and unfiltered.
Langhe Chardonnay
High-altitude, cool vineyards are the source of the estate's racy and refined, pure Chardonnay grown not far from Neive. Citrus zest, plenty of white fruits and spice, long and silky. A lovely aperitif with local sheep's cheese and salumi. 
Download fact sheet (PDF)
Langhe Sauvignon Arbe'
A new wine for the estate and a special selection of Sauvignon Blanc from Barbaresco, reimagined with true Piedmontese style and flair. 100% Sauvignon, racy and bright, with fresh acidity and tons of flavor.
Download fact sheet (PDF)
Barbera d'Alba 'Majano'
Plush and juicy and endlessly satisfying, 'Majano' is a selection of Barbera grapes from vineyards not far from Neive. Chock-full of red fruited energy and spice, 'Majano' is exactly the red you want with homemade meatballs and spaghetti. 
Download fact sheet (PDF)
Barbera d'Alba 'San Stefanetto'
A step up in altitude, a serious jump in intensity and concentration. 'Stefanetto' is Barbera sourced from a high-altitude vineyard, delivering bolder curves and deeper complexity. A red that's spectacular today but that will also age well in a cool cellar. What a great Barbera!
Download fact sheet (PDF)
Langhe Nebbiolo
The Bussos select younger vine fruit for this gorgeous Langhe Nebbiolo wine, redolent of red roses and cherries and wave after wave of baking spices. Truly too good.
Download fact sheet (PDF)
Barbaresco 'Mondino'
The vineyard 'Mondino' is found in cru Balluri, in Neive. A Barbaresco that elegantly marries its deep, complex red fruit with airy, lithe spice notes — the best of all worlds. One of our favorites for early drinking.
 Download fact sheet (PDF)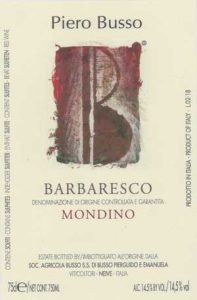 Barbaresco 'San Stunet'
The family's single vineyard holding in Treiso, cru 'San Stunet' reveals its true character in the Busso's subtle, finesse-driven Nebbiolo wine. All grace and spice, wonderful transparency to terroir.
 Download fact sheet (PDF)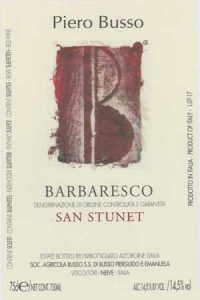 Barbaresco 'Gallina'
Nebbiolo sourced from cru 'Gallina' are said to be some of Neive's roundest and approachable Barbaresco wines. In the hands of the Busso family, 'Gallina' takes on silky curves and delivers wave after wave of rose-kissed, ruddy fruit. Another bottle that is beautiful from the get-go and will age gracefully in a cool cellar.
 Download fact sheet (PDF)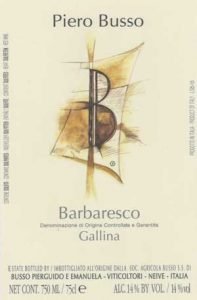 Barbaresco 'Albesani Vigna Borgese'
'Vigna Borgese' refers to the small plot of vines that surrounds the Busso family's home and cantina here in Neive. What a charmed spot, and what a landmark wine! Older vines deliver fruit that is suave and deeply concentrated, a wine that is gorgeous today but will no doubt make glorious old bones.
 Download fact sheet (PDF)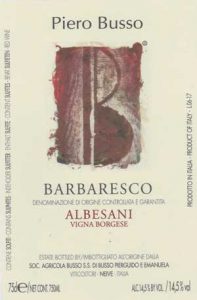 Barbaresco Riserva 'Albesani' Viti Vecchie
This is a special selection, made only in the top vintages, of Nebbiolo fruit from the estate's oldest vines in cru 'Albesani.' Winemaker Pierguido Busso's great-grandfather planted these vines, surrounding the family home and cantina, in the late 1940s. A picture-perfect example of the power and elegance of Nebbiolo from Neive.
 Download fact sheet (PDF)