Azienda Agricola Ronchi
Barbaresco | Piemonte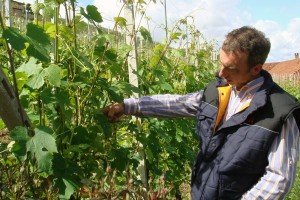 Hand-crafted from field to bottle, craft shared as tradition from generation to generation—this is what makes Barbaresco from Azienda Agricola Ronchi so special.
Winemaker Giancarlo Rocca and now four generations of the Rocca clan live in a house built by the family, surrounded by 'Ronchi' cru vines. This natural amphitheater not only captures the sun to push Nebbiolo to perfect ripeness but also is stunningly picturesque.
Although we have worked with the Rocca family for more than a decade, their peerless Nebbiolo wines are still an insider's find. The "Ronchi" cru runs along the eastern edge of the appellation, near the historic town of Neive. Bordered by 'Montestefano' to the north, where Nebbiolo shows a deep complexity and elegant tannins, and 'Moccagatta' (Muncagota) to the south, the source of silky Nebbiolo with delicate yet intense perfumes, 'Ronchi' combines the best of all these attributes in a wine that is deliciously unforgettable.
FARMING & WINEMAKING
For more than four generations, the Rocca family has lived surrounded by the vines of the 'Ronchi' cru in Barbaresco. The vineyards are part of the family; winemaker Giancarlo Rocca can walk from his cellar door to his Nebbiolo vines in less than a minute. Needless to say all work is performed by hand, and as sustainably as possible. 
Grapes are harvested by hand, destemmed, then fermented in temperature-controlled, stainless steel tanks. Wines are aged, depending on the cru, in either Slavonian oak casks or a combination of French oak barrel and cask. In recent vintages, Giancarlo has been exploring aging wines in terracotta amphorae, and from his successful efforts has created a new line of amphora-aged wines. 
Langhe Arneis
Piedmont's noble white grape, Arneis in the hands of the Rocca clan is vibrant and juicy, with notes of wildflowers, apples and lemon. The idea aperitif with salumi and fresh sheep cheese.
Download fact sheet (PDF)
Langhe Bianco 'In Amphoris'
A more profound and thrilling take on Piedmont's native white grape, Arneis. Like with his Langhe Nebbiolo, winemaker Giancarlo Rocca ages his white wine in terracotta (clay) amphorae for a few months, for more texture and flavorful depth. This is a medium-bodied, silky wine, beautifully rendered.
Download fact sheet (PDF)
Barbera d'Alba 'Terlé'
A juicy, joyful red that is exactly what you want with savory stews or air-dried salami. Barbera fruit grown near the family's cru 'Ronchi' vineyard is plum-heady, wonderfully silky. Aged in a combination of French oak barrels and traditional "botti," this Barbera is also a step above most "basic" bottlings. In Piedmontese dialect, "terlé" means to be emotionally thrilled, to be intensely moved by joyful events. Such as a friend pouring you a glorious glass of Barbera!
Download fact sheet (PDF)
Langhe Nebbiolo 'In Amphoris'
Pure Nebbiolo from the 'Ronchi' cru, the family's prized terroir and one of Barbaresco's top vineyards. Winemaker Giancarlo Rocca ages his wine for one year in terracotta amphorae, a neutral vessel that allows the wine to "breathe" yet doesn't impart any flavor (unlike oak barrels). A stunningly aromatic and textured wine, with energy and lift. As beautiful as Nebbiolo can and should be. 
Download fact sheet (PDF)
Barbaresco
Estate vineyards are located in a natural amphitheater along the eastern edge of the appellation; this pure Nebbiolo combines fruit from the 'Ronchi' cru vineyard and from other estate vineyards. Aged for two years in large (20HL) Slavonian cask.
Download fact sheet (PDF)
Barbaresco 'Ronchi'
The 'Ronchi' vineyard surrounds the family farm and home, part of a natural amphitheater along the eastern edge of the appellation not far from Neive. Aged for two years in a combination of cask and French oak barrel.
Download fact sheet (PDF)
Barbaresco 'Red Label'
A new wine as of the 2019 vintage, the estate's "red label" Barbaresco is a dream wine, full of floral intensity and flavorful depth. A selection of fruit from near Neive, plus fruit from cru Gaia Principe, one of Barbaresco's leading vineyards. (As of the 2020 vintage, this wine will be 100% from Gaia Principe.) A lovely Nebbiolo with grace and poise. 
Download fact sheet (PDF)