Azienda Agricola Patrizia Cencioni
Montalcino | Tuscany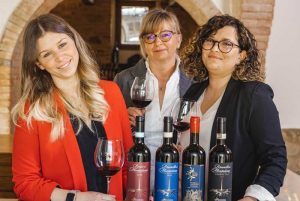 Many an independent winemaker will tell you that if you want something done well, you're going to have to do it yourself. Patrizia Cencioni takes this adage to the extreme—as winemaker, vineyard manager and owner, she is the singular beating heart and soul of her independent estate.
While Patrizia's family roots do reach back decades in Montalcino, hers is not a typical tale of wine-stained generations, each planting vines and learning from the next. Patrizia wanted to make Brunello wines (but her extended family felt it wasn't "women's work"); thus, she bought a crumbling property on the northeast flanks of Montalcino in 1989 and set to doing things her way.
Today Patrizia's soulful wines stand as a solid example of how hard work and perseverance can take a dream and transform it into one of the more promising boutique estates in this world-famous appellation.
Sitting on a perfect plateau some 1,050 feet above sea level, Azienda Agricola Patrizia Cencioni benefits from a particularly windy microclimate that moderates the more Mediterranean heat of this side of Montalcino. Brunello here is wonderfully suave and savory, with tangy licorice and black cherry fruit. Patrizia's Riserva, a single-vineyard selection of older vines, takes this intensity a notch higher, all the while preserving the freshness and energy that the best Sangiovese Grosso wines can and should give.
Today Patrizia works side-by-side with her daughters, Annalisa and Ariana, in the fields and in the cantina. They represent Montalcino's next winemaking generation, forging their own traditions, just as their mother did.
FARMING & WINEMAKING
The estate, to the northeast of the village of Montalcino, comprises more than 100 acres of land, a quarter of which is planted to vine. Some additional 15 acres are planted to olive trees, with the rest of the high-altitude estate left to wild forest.
Vineyards range from 900 to 1,050 feet in altitude, over a series of rolling hills, that benefit from the cooling winds that sweep down from Mount Amiata yet are at the same time well-exposed to the warm afternoon sun. Soils are classic Montalcino, a combination of "galestro," a mineral-rich compacted clay, and friable volcanic rock.
Vines are cared for according to organic principles, and the estate is working toward certification. The oldest plot of vines, called '123,' was planted in 1988 and is reserved primarily for the estate's Brunello di Montalcino Riserva wine.
Grapes are harvested by hand and fermented on indigenous yeasts in temperature-controlled, stainless steel tanks. Wines are aged either in older French oak barrels or traditional, larger "botti" made of French and/or Slavonian oak. 
Rosso di Montalcino
A "baby" Brunello in style and substance! Patrizia selects younger-vine fruit from her Brunello vineyards for this spiced and suave Rosso, vinified on indigenous yeasts and aged in large oak cask. Ripe cherry and raspberry notes mix with brown spice and earthy nuance; lots of energy and freshness on the palate. A lovely Rosso with grace and poise.
Download fact sheet (2021 vintage) (PDF)
Brunello di Montalcino
An excellent Brunello with tons of character and concentration. Patrizia's vines benefit from the regional warm and windy microclimate, mixing intense heat during the day with cooling winds at altitude during the evenings; a recipe for success when it comes to world-class Sangiovese. Spiced, suave, always seductive! A Brunello that will age with grace (if you can keep your hands off it today).
Download fact sheet (2018 vintage) (PDF)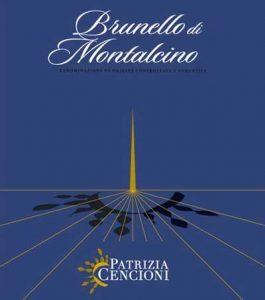 Brunello di Montalcino 'Ofelio'
A cellar selection of the family's best lots of Brunello wine, aged only in larger Slavonian oak casks, and named after winemaker Patrizia Cencioni's uncle — one of the sole family members who supported her dreams to make her own wines and who also helped care for her daughters as their "nonno" (grandfather) in the early, busy days of her winery. Lots of substance here, with wonderful spice and grippy tannins.
Download fact sheet (2018 vintage) (PDF)
Brunello di Montalcino Riserva 'Selezione 123'
The star of the estate, 'Selezione 123' is a single-vineyard selection (the plot is named '123'), one that highlights Patrizia's highest-altitude and oldest vines (planted in 1988). Smoky and suave, with fine-grained tannins and loads of heady black fruits. Elegance and power at once!
Download fact sheet (2017 vintage) (PDF)