Cantine Olivella
Sant'Anastasia (Naples) | Campania
The smoldering power of an ancient yet still active volcano, the native roots of unique grapes that reach back hundreds of years, and the passion of local talent eager to breathe new life into one of Campania's most historic wine regions: Dionysus, god of the vine, would be most proud of the team at Cantine Olivella.
Here on the slopes of Monte Somma, the oldest part of Vesuvius — the volcano that destroyed Pompeii and continues to rumble, shaking daily the nerves of the Napolitani — grape growing is an ancient art, the lava-rich, sandy slopes of the volcano providing perfect terroir for rare, native grapes such as Catalanesca and Piedirosso.
Winemaker Andrea Cozzolino started his project in 2004, bringing with him some of his family's historic vineyard holdings here in the Vesuvio National Park, a protected area that provides vines with an ideal biodiversity in which to thrive. Small vineyards dot this wild landscape, ranging from 900 to nearly 2,400 feet in altitude — this is fine winemaking that respects the natural landscape of Vesuvius while cultivating historic vines on soils that have known them for centuries.
FARMING & WINEMAKING
The estate totals some 30 acres on the volcanic slopes of Monte Somma, the oldest portion of the Vesuvius volcano near Naples. Vineyards are spread out over three regions–Somma Vesuviana, Sant'Anastasia and Pollena Trocchia–with altitudes ranging from 900 to more than 2,400 feet. Plots are mostly small, and surrounded by wild forest and brush.
Cultivation is limited to native grape varietals, such as white grapes Catalanesca and Caprettone, and red grapes Piedirosso and Olivella. All vines are "piedi franco," or ungrafted rootstock; vines are propagated via layering. (With layering, a single cane from a healthy vine is buried in the soil with its tip exposed; that is allowed to grow, while roots develop to then eventually form a new, independent plant.)
Viticulture is according to organic principles, and the estate is certified; practices include planting beneficial herbs between rows to prevent erosion and control pests. All work in the fields is necessarily performed by hand. Yields are naturally low.
Grapes are harvested by hand, usually in October given the longer growing season at altitude. Fermentation happens on indigenous yeasts in temperature-controlled tanks. Aging takes place also in tank.
Lacryma Christi Vesuvio Bianco 'Lacrimabianco'
'Olivetta' is the name of a natural spring within the Vesuvio National Park, the only one in the area — a source of necessary refreshment for both travelers and residents. This 'Lacrimabianco' too is a source of necessary refreshment, a silky marriage of two native white grapes: Catalanesca and Caprettone. Medium-bodied and chock-full of apple and pear and citrus fruit, it's a lovely draught of southern Italian sun and energy.
Download fact sheet (PDF)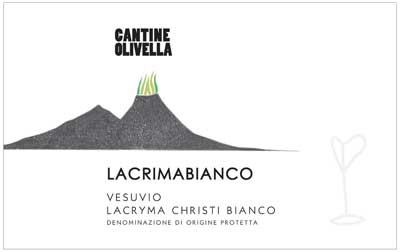 Catalanesca del Monte Somma Bianco 'Katà'
Catalanesca is a rare white grape that is said to have been brought to the Naples region in the 15th century by Spanish royalty — which is why its name recalls the Spanish region of Catalonia. Cultivated only on the slopes of Vesuvius, Catalanesca is a medium-bodied ray of sunshine, with rich yellow and white fruits and a smoky, steely freshness. Olivella is one of the only estates in Italy that bottles a single-varietal wine from Catalanesca. 'Katà' is the local diminutive for this white grape.
Download fact sheet (PDF)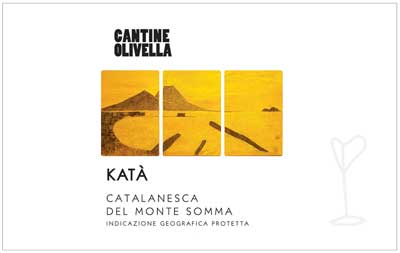 Catalanesca del Monte Somma Bianco 'Summa'
Fine wine doesn't get more special or spectacular than this volcanic-born white. This single-vineyard selection of Catalanesca grapes hails from a northwest-facing plot on one of Vesuvius' most ancient faces, called Monte Somma. This windswept, cooler side of the volcano, at some 2,000 feet, honors the original plantings of this native white grape back in the 15th century. Fermented partially on the skins and aged in a combination of large terracotta amphora and tank, 'Summa' is the sum of all that is powerful and glorious about volcanic white wines — energy, freshness, length, it's all there. A landmark wine made in very small quantities. 
Download fact sheet (PDF)
Lacryma Christi Vesuvio Rosso 'Lacrimanero'
A thrilling red blend that brings together three native grapes that thrive on southern Italy's rich volcanic soils. Piedirosso, with its delicate floral aromas and silky body; Aglianico, with notes of smoke and licorice and muscle; and Olivella, a rare red grape with blueberry notes and tons of saturated ruby color. One sip puts you on a piazza in the center of Naples on a Saturday night with the best slice of pizza you've ever had.
Download fact sheet (PDF)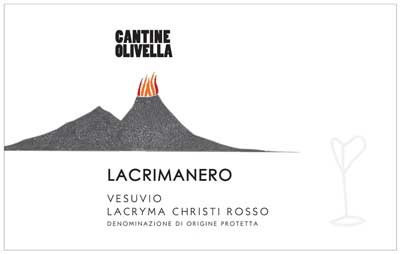 Piedirosso Vesuvio Rosso 'Vipt'
'Vipt' is a word play; in Neapolitan dialect, the verb "vippere" means not just to drink, but to drink well and with pleasure. This certainly describes the joy one gets while sipping this pure Piedirosso, full of spice and ruby fruit and so much soul. Delicately aromatic, with hints of smoke as a nod to its volcanic soils; intensely flavorful blue and red fruit amaze, given how light bodied and fresh this wine is. A perfect, balanced red with tons of character.
Download fact sheet (PDF)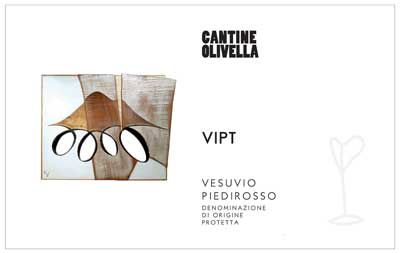 Established: 2004
Winemaker: Andrea Cozzolino
Region: Italy • Campania • Sant'Anastasia (Naples)
Vineyard size: 30 acres
CERTIFIED ORGANIC (PDF)