Château de Pibarnon
Bandol | Provence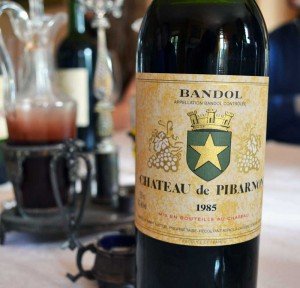 Château de Pibarnon
sets the standard for greatness not only in Bandol but also for wines the world over. Like fine Barolo, Pibarnon Bandol is an eternal wine, growing ever more elegant and supple with time; and like grand cru Burgundy, the depth and complexity of Pibarnon Bandol is a singular, captivating experience.
With its perch at the highest point in the appellation, its impeccable terroir and unforgettable amphitheatre of vines, Pibarnon unquestionably crafts the finest Mourvèdre-based wines in Bandol. This breathtaking yet rugged region is exceptionally suited to showcasing the power and beauty of this southern red grape.
Bandol was no more than a backwater when Catherine and Henri de Saint Victor purchased Pibarnon in the late 1970s. Recognizing the region's potential, however, the visionary couple worked tirelessly for some 30 years, landscaping and crafting ever better wines. By the 1990s, Pibarnon was making the region's top reds, a status today maintained under their son, Eric de Saint Victor. Henri passed away in 2013.
FARMING & WINEMAKING
Pibarnon sits at the highest point in the Bandol appellation (more than 900 feet above sea level) and occupies its own micro-climate. The influence of the Mediterranean to the south as well as the estate's altitude keeps the southern temperatures moderate, allowing Mourvèdre the long growing season it requires to reach optimal ripeness.
The estate's unique and rare soils, called Trias, are mineral-rich and retain water even in the driest years; sub-soils are a blue clay (found also at Château d'Yquem and Petrus) which contribute to the wines' refined aromas and smooth texture.
The estate vineyards grow in a natural amphitheater, which not only protects vines from strong winds but also provides a dramatic backdrop for one of Bandol's most legendary estates.
Vines are cared for according to organic principles; as of the 2019 vintage, the estate is officially certified. Harvest is always by hand, considering the steep, terraced terrain. Wines are fermented on indigenous yeasts and aged exclusively in a combination of new and older French oak casks and barrels.
Bandol Blanc
The pinnacle of Provençal whites. Soft and inviting, with flavors of apricots and white peach and a refreshing almond finish.
Download fact sheet (2019 vintage) (PDF)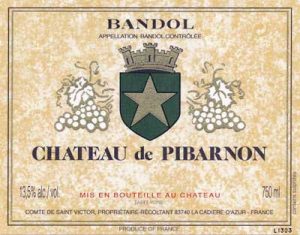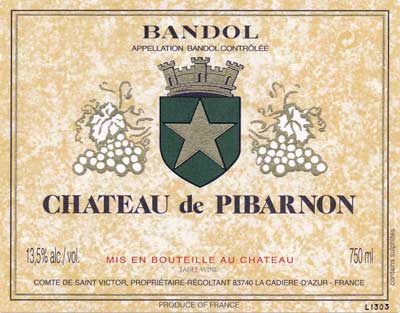 Bandol Rosé
A full-bodied, blush wine that captures the licorice and berry intensity of Mourvèdre with a touch of silk from Cinsault. When you hear people talk of "serious" rosé, they're talking about this wine — a full-bodied wine that reaches its peak with a year or two in bottle. Yes, great rosé can age!
Download fact sheet (PDF)
Bandol Rosé 'Nuances'
An exceptional, serious, sublime rosé wine! Winemaker Eric de Saint-Victor sought to create a "grand rose," a wine fermented partially in terracotta amphorae and aged through the summer to be released in late fall. Nuanced, delicate, refined: this singular wine takes Provencal pink to a whole new level. Stash a few bottles away and watch it evolve over five, 10 to even 20 years.
"This wild, singular wine … shows the heft and power of a red wine combined with the elegance and precision of a white one." -Josh Raynolds, Vinous
Download fact sheet (PDF)
'Les Restanques de Pibarnon' Bandol Rouge
A selection of younger vines, organically raised on the same terroir as the estate's Bandol Rouge. "Restanques" are the terraces where Mourvèdre vines grow in the estate's natural amphitheater.
Download fact sheet (PDF)
Bandol Rouge
A complex, savory and rustic wine when young, Bandol with age mellows and evolves into something resembling finely woven silk.
Download fact sheet (PDF)
Established: 1977
Winemaker: Eric de Saint Victor
Region: France • Provence • Bandol
Vineyard size: 123 acres
CERTIFIED ORGANIC (PDF)
Read as much as you like about the microclimate of a wine region; it is only when you feel it that you truly comprehend. The panoramic view of the entire Bandol amphitheatre with its dramatic limestone outcrops is complemented by a cloudless sky, yet proprietor Eric de Saint Victor informs me that beyond the protective Sainte-Baume mountains, it has been raining all week. No wonder Bandol enjoys 300 days of sunshine each year, no wonder it exists as a separate AOC from Provence, and no wonder its wines are hailed as the apogee of Mourvèdre.