Clos du Mont-Olivet
Châteauneuf-du-Pape | Rhône Valley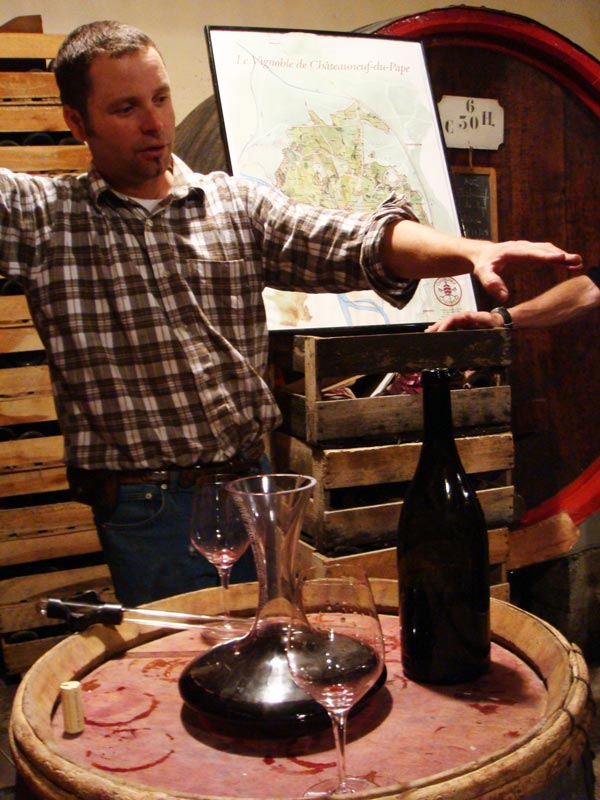 The family estate of
Clos du Mont-Olivet
is the collector's choice for traditional, aromatic and age-worthy Châteauneuf-du-Pape.
The Sabon family's ancient, three-story stone house looks directly upon the ruins of the papal "châteauneuf" that gives the town its name. Their cellars are stacked high with dusty bottles—many without labels—stashed by winemaker Thierry Sabon's grandfather when he first started making wine.
Clos du Mont-Olivet was one of the first wineries North Berkeley partnered with in the south of France, and since then, the estate has come to symbolize both what we seek out in wineries in the Rhône Valley (and beyond) and importantly, what we hold true and dear in great wine.
We have shared many a meal in this old stone house with the family and have watched the changing of generations—from the grandfather's last harvest to his grandson's first—yet the extraordinary terroir and talent that defines Mont-Olivet wines has remained as eloquent and exceptional as when we first experienced it so many years ago.
FARMING & WINEMAKING
Mont-Olivet's some 15 vineyard parcels are found mostly in the northern and eastern part of the Châteauneuf-du-Pape appellation (Côtes du Rhône parcels are north of Orange), with a patchwork of soils—galets roulés, sand and clay—typical to the region. The estate cultivates all nine allowed red grape varietals for its Châteauneuf-du-Pape blend. As such, Mont-Olivet wines present a unique look at the harmony of terroir and grape in this historic region.
In recent years, the estate has expanded its holdings into the Lirac appellation, due west across the Rhône river from Châteauneuf-du-Pape.
While the estate follows sustainable farming practices, there is no "dogma," says Thierry Sabon, who prefers to let the vintage conditions and health of his grapes guide his decisions each year. In general, vine rows are plowed to control weeds; no pesticides are used. Grapes are harvested by hand and sorted both in the fields and at the cellar, and then fermented on indigenous yeasts in cement tanks. Wines are aged in a combination of older foudre, demi-muid and barrel, depending on the wine and vintage, and are bottled unfined and unfiltered.
Châteauneuf-du-Pape Blanc
Vin de Pays du Gard 'La Quête'
No tilting at windmills, here: 'La Quête' is a "quest" to find the most expressive Cinsault the south has to give, crafted by talented hands who have made it their own personal quest to make eternal wines that slow time and speak of passion.  Sourced from the village of Saint Laurent des Arbres on sandy soils, 'La Quête' is 100% Cinsault, fresh and vibrant and wonderfully natural (full-cluster, semi-carbonic fermentation on indigenous yeasts in cement tank).
Côtes du Rhône Rouge Vieilles Vignes
A Côtes du Rhône with serious terroir credentials. This bountiful red blend shows the depth and complexity of a refined Châteauneuf while showcasing lively, summer-ripe fruit and spices.
Lirac Rouge
The village of Lirac sits on the "rive droite," or right banks of the Rhone river, due west from Chateauneuf-du-Pape. Savvy winemakers today are indeed looking west, rediscovering these old-vine vineyards and realizing that quality here is similar, if not equal, to those plots under the shadow of the papal ruins in Chateauneuf! A bold blend of Grenache, Syrah and Cinsault, this savory red will give many a Chateauneuf a run for its money.
Lirac Rouge 'Marie Jausset'
The village of Lirac sits on the "rive droite," or right banks of the Rhone river, due west from Chateauneuf-du-Pape. The 'Marie Jausset' is an hommage to the fondatrice of the family domaine, the great-grandmother of winemaker Thierry Sabon, who inherited vines in Chateauneuf that would become Clos du Mont-Olivet. Here Thierry selects the best parcels from new holdings in Lirac, near Saint Laurent des Arbres and Saint-Genies de Comolas, with terroir rich in sand and quartz stone. Offering an "echo," says Thierry, of the profundity and agability of the estate's 'Cuvee de Papet,' 'Marie Jausset' is a wine to collect and savor for the ages. A blend of Cinsault, Grenache and Mourvedre.
Châteauneuf-du-Pape Rouge Cuvée Unique
Châteauneuf-du-Pape Rouge 'La Cuvée du Papet'
'Cuvée du Papet' is the estate's top wine from its oldest Grenache vines, many of which were planted in 1901, and is produced only in the finest of vintages. This complex, age-worthy wine is a tribute to winemaker Thierry Sabon's grandfather, Joseph Sabon.
Established:
1932
Winemaker:
Thierry Sabon
Region:
France • Rhône Valley • Châteauneuf-du-Pape
Vineyard size:
80 acres
PRACTICING SUSTAINABLE FARMING
Clos du Mont Olivet is one of the great estates of Châteauneuf-du-Pape. They have been estate bottling for over 80 years, and readers looking for classic, old-style, traditional as well as long-lived Châteauneuf-du-Papes have a beacon of reassurance with the Sabon family, who have run this domaine so impeccably well.