Dama del Rovere
Monforte d'Alpone | Soave | Veneto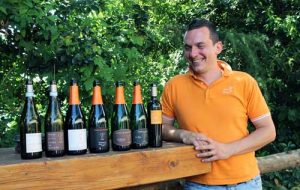 From its perch at the top of the world, Dama del Rovere sets itself apart from the Soave masses with high-altitude vineyards, strict attention to yields and vibrant, character-rich white wines that are the benchmarks of quality for the Soave Classico appellation.
The Pra family owns and works in one of the highest-altitude cellars in the entire Veneto, some 1,500 feet above sea level. Family-owned vineyards, dedicated to local grape varieties Garganega and Durella, also share this wind-swept, refined perch. At this altitude, it's easy to see just how much higher this family sits above the lower-land and lower-quality sea of simple Soave wines.
Winemaker Massimo Pra and his brother, Davide, represent the fourth generation of vine growers from their family. The winery's name reflects both the family's dedication to their craft and to local culture. "Dama" is a shortening of Davide and Massimo; yet it also means "lady," in reference to a votive Madonna carved into an oak tree ("rovere") located in the family's vineyard.
FARMING & WINEMAKING
The Pra family's cantina and vineyards sit at one of the highest points in the appellation, some 1,500 feet above sea level. Vineyards face east/northeast on the slopes of the Monte Calvarina, an inactive volcano; thus soils are primarily volcanic, rich in minerals and ideal for the cultivation of native white grapes Garganega and Durella.
The family practices sustainable farming, avoiding pesticides and herbicides whenever possible. Harvest is by hand and because of the altitude, starts much later than with lower-land vineyards; winemaker Massimo Pra says once "regular" Soave vineyards are finished with the harvest, it's time for him to start.
Grapes are pressed gently and fermented on indigenous yeasts in temperature-controlled, stainless steel tanks and wine is aged on fine lees.
Brenton Lessini Durello Brut
A spectacular sparkler made by just a few local growers in the hills over Soave — but Dama del Rovere's example has to be the most character-rich, grown at serious altitude and aged briefly on fine lees for added body. Tangy green apples, citrus zest, sea salt; residual sugar 9.5g/L.
Download fact sheet (PDF)
Extra Brut Metodo Classico 36 Mesi
A selection of Durella grapes from the Pra family's oldest vineyard, with vines pushing 60 years and older. Made in the Champagne style (second fermentation in bottle on fine lees) and aged for 36 months before disgorgement. Dosage 2.5 grams/L. A stunningly pure, refined and unique wine, with notes of preserved lemon, sea salt, light toast, warm spices and a touch of umami. Outstanding!
Download fact sheet (PDF)
Veneto Bianco 'Biancodama'
A new estate bottling that further proves why high-altitude, volcano-born vineyards are always a thrilling source of great white wines. This unique blend of Trebbiano and Riesling, from one of the highest plots just outside the Soave Classico appellation boundaries, is riveting and really lively, chock-full of white flowers and stone fruits and tons of acidic freshness. A special white that begs for summer salads and thirsty company. 
Download fact sheet (PDF)
Soave Classico
The benchmark for high-altitude Soave Classico. Refreshing, vibrant, invigorating: the Pra family's older Garganega vines deliver tons of flavor and character to this elegant white wine.
Download fact sheet (PDF)
Soave Classico 'Bortolo' Vigne Vecchie
A piece of Soave Classico history, and an unforgettable taste of the true potential of Garganega from Soave's highest and oldest vineyards. Winemaker Massimo Pra's great-grandfather planted these vines in the late 1920s!  Supple, textured, sublime.
Download fact sheet (PDF)