Domaine Anne Gros
Vosne-Romanée | Côte de Nuits | Burgundy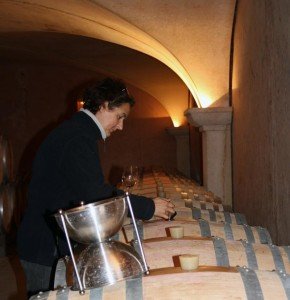 Subtle, harmonious, supple—Burgundy from
Domaine Anne Gros
is intimately tied with the elegant and poised character of wines from Vosne-Romanée.
While each cru faithfully reflects its terroir, it is terroir as translated through Gros' expert touch, offering richer aromatics, rounder curves, silkier tannins. The combination is irresistible, so much so that Gros' very limited production is snapped up by global collectors faster and faster each vintage.
Anne Gros simply is one of the top winemakers in Burgundy today, which explains why her wines have inspired such a cult-like following. Importantly for us, Gros personifies the sort of winemaker with whom we have always sought to work: an artisan with a clear vision of her terroir and talents, and the grace to be humble despite the weight of Burgundian tradition and family history.
Anne Gros took over her father's winery (Domaine François Gros) in the late 1980s. Yet there have been Gros family members in Vosne since the 1830s; land holdings have split among family members for generations. Today, there are four separate wineries in Vosne owned by the extended Gros family, including Domaine Anne Gros: Gros Frere et Soeur, Anne-Francoise Gros and Michel Gros, all of whom are Anne's cousins.
FARMING & WINEMAKING
Anne Gros cares for her vineyards sustainably, adhering to organic practices as much as possible depending on the conditions of the growing year.
Grapes are always harvested by hand. Juice is fermented on indigenous yeasts in stainless steel tanks for both white and red wines.
In recent years, Anne Gros has been cutting back on her use of new oak barrels. As of the 2017 vintage, the estate uses one-third new barrels, one-third one-year barrels, and one-third two-year barrels, for all red Burgundy. 
Bourgogne Blanc Chardonnay
A special selection of fruit from both older and younger Chardonnay vines planted not far from Anne's Bourgogne Rouge vineyards, just outside of Vosne. Fresh, medium-bodied, wonderfully lacy and redolent of citrus blossom and fresh pineapple. 
Download fact sheet (PDF)
Bourgogne Blanc Hautes-Côtes de Nuits 'Cuvée Marine'
Lively and tangy, this thirst-quenching Burgundian Chardonnay grows some 1,200 feet above sea level in the windy hills of the Hautes-Cotes, above the village of Vosne-Romanée.
Download fact sheet (PDF)
Bourgogne Rouge Pinot Noir
Always the finest, more suave Bourgogne Rouge each vintage, hands down. Red fruits, light spice, lots of energy.
Download fact sheet (PDF)
Bourgogne Rouge Hautes-Côtes de Nuits
A spicy, juicy Burgundian Pinot Noir from a small, high-altitude and southeast-facing vineyard near the commune of Concoeur, in the hills above the village of Vosne-Romanée.
Download fact sheet (PDF)
Chambolle-Musigny 'La Combe d'Orveau'
Classic Chambolle, chock-full of purple flowers and silky tannins, with an extra dose of bright red fruit, a nod to this plot's elevation and mineral-rich soils.
Download fact sheet (PDF)
Vosne-Romanée 'Les Barreaux'
A more tightly wound Vosne from older vines that grow at the forest line, practically direct on the "mother rock" of limestone that gives red Burgundy its unmistakable elegance and poise.
Download fact sheet (PDF)
Echezeaux Grand Cru 'Les Loachausses'
Profound concentration and great aging potential. 'Les Loachausses' is a lieu-dit within the larger Echezeaux vineyard, located on the Vosne side.
Download fact sheet (PDF)

Clos Vougeot Grand Cru 'Le Grand Maupertui'
Most of Anne's Pinot Noir vines in this exemplary lieu-dit were planted in 1905. A breathtakingly profound grand cru; a lithe, silky wrap conceals a deeply concentrated core.
Download fact sheet (PDF)
Richebourg Grand Cru
Burgundy's most sumptuous wine, and Anne Gros' most sought-after cru, given both its bottomless complexity and its rarity. Poised, profound, pleasurable: an eternal wine.
Download fact sheet (PDF)