Domaine Calot
Villié Morgon | Beaujolais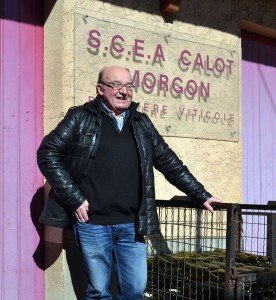 Once you taste the wines of Domaine Calot, you immediately understand the potential of cru Beaujolais. The family's ancient vines, pure granite vineyards and philosophy in the cellar combine for a Morgon that is serious yet seductive, and certainly made for the long haul. Think fine Burgundy; not simple Beaujolais!
It was with Domaine Calot more than 20 years ago that we first realized just how convincing cru Beaujolais could be. Jean Calot had always been a serious artist among too many casual winemakers, many of whom still think Beaujolais should be simple and fun, not profound or age-worthy. Each vintage, Calot wines prove that Gamay at its best can be as complex and long-lived as Burgundian Pinot Noir.
Morgon is one of the more muscular and concentrated of Beaujolais' crus. The family's ancient vines (many 100 years old or older) deliver concentrated yet supple flavors and smooth tannins. One of the more rewarding cellar decisions you can make is to stash a few bottles of Calot Morgon in the cellar to later discover the silky elegance of well-aged cru Beaujolais.
Sadly, Jean passed away in 2015. His brother François, and François' son Vincent, had for years worked by Jean's side and are more than capable of continuing his vision. While Jean will be sorely missed, his legacy is in good hands.
FARMING & WINEMAKING
The family's high-altitude vineyards are cared for according to the principles of "reasoned" agriculture (lutte raisonée) which shuns pesticides and herbicides, and uses indigenous yeasts for fermentation.
Harvest is always by hand. Grapes are cold-macerated and then fermented in temperature-controlled, stainless steel tanks. With a nod to Beaujolais tradition, Calot also uses a hand-cranked basket press.
Wines are aged in a combination of larger foudre and older French oak barrels (often sourced from Burgundy), and then bottled unfined and unfiltered.
Beaujolais Rosé
Gamay rosé? Yes, please! This medium-bodied, cherry-rich and suave pink wine is exactly what the warmer weather calls for. Our friends at Calot enjoy chilled bottles alongside homemade sausage and healthy chunks of local cheese.
Download fact sheet (PDF)
Morgon Vieilles Vignes
Pure Gamay from vines some 100 years old, with many even older. A wine that can and will age with grace for more than ten years in the best vintages.
Download fact sheet (PDF)
Morgon Vieilles Vignes 'Cuvee Jeanne'
A very special, limited selection directly from the domaine. Perfectly cellared in Morgon since bottling, this 'Cuvee Jeanne' — a tribute to winemaker Vincent Calot's grandmother — hails from 100 year old Gamay vines and is always the last plot to be harvested.
Download fact sheet (PDF)