Domaine Comte Georges de Vogüé
Chambolle-Musigny | Côte de Nuits | Burgundy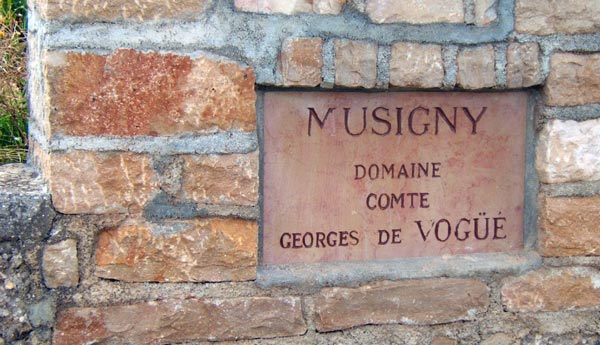 With more than 500 years of history and the lion's share of one of Burgundy's most hallowed grand crus,
Domaine Comte Georges de Vogüé
is a cornerstone of Burgundian legend and a vinous dream for modern connoisseurs.
Certainly the greatest estate in Chambolle-Musigny if not in greater Burgundy, de Vogüé for 20 generations has been steward of the village's top terroirs. The estate owns some 80 percent of grand cru Le Musigny, and a significant portion of grand cru Bonnes-Mares. Its premier cru Chambolle-Musigny is crafted exclusively from younger-vine fruit in Musigny; its Bourgogne Blanc is crafted from younger-vine Chardonnay grown also in Musigny (which may soon be born again as a Musigny Blanc).
The style of de Vogüé is the epitome of Chambolle—delicate aromas, refined yet profound flavors, a finish made of silk. These are wines that come into their own not ten years down the line but 30; a cellar without a selection of de Vogüé is a cellar missing the soul of Burgundy.
FARMING & WINEMAKING
Vineyards are cared for essentially according to organic principles, although the estate is not certified. Beneficial herbs are planted between vineyard rows to control pests; vineyards are plowed by horse; the estate makes its own organic compost.
Winemaker François Millet does not follow a set formula in making his wines, preferring vintage conditions and the fruit of the vine to dictate what's needed. Grapes more often than not are destemmed and then fermented on indigenous yeasts in large wooden vats. Very little sulfur is added during fermentation or at bottling.
In general, village wines are aged in 15 percent new French oak barrels, while grand cru wines see no more than 35 percent new oak. Wines are bottled unfined and unfiltered.
Bourgogne Blanc
This supple white hails from younger Chardonnay vines at the top of the slope in grand cru Musigny. As most of these vines were replanted in the late 1980s and early 1990s, the estate bottles the wine as a Bourgogne Blanc, with the goal of waiting until vines mature before bottling it as grand cru Musigny Blanc. Very rare; only some 100 cases are made each vintage.
Chambolle-Musigny
A selection of Pinot Noir fruit from villages vineyard 'Les Porlottes,' and older-vine, "declassified" fruit from premier crus 'Les Baudes' and 'Les Fuées.' Ripe raspberries, white peaches, colored peppers.
Chambolle-Musigny 1er Cru
"Musigny in short trousers," says the estate. While there is no actual premier cru Pinot Noir in this bottle, what is there is younger vine fruit (25 years or younger) from grand cru Musigny. Tangy red berries, baking spices, a depth and complexity that belie its "short pants" character.
Chambolle-Musigny 1er Cru 'Les Amoureuses'
De Vogüé's few rows in 'Amoureuses' sit at the highest part of the vineyard, separated from grand cru Musigny by a small road. A legend in its own right, this powerful, sultry premier cru ages in step with the top grand cru bottles.
Bonnes-Mares Grand Cru
The estate's vines (nearly seven acres) are all located on the Chambolle side of Bonnes-Mares. The terroir here has more red clay (where Morey has more marl and limestone) for a more velvety-textured, rounder wine, with characteristic aromas of violets and wildflowers.
Musigny Grand Cru Vieilles Vignes
De Vogüé is Musigny; Musigny is de Vogüé. This estate's top selection of older vines (40 years and older) go into its signature cru, of which less than 1,000 cases each vintage are made. Profoundly flavored and impressively structured, yet still lacy and light on the tongue; a wine that will age for 30 years or more with grace.