Domaine De Gouye
Saint-Jean de Muzols | Northern Rhône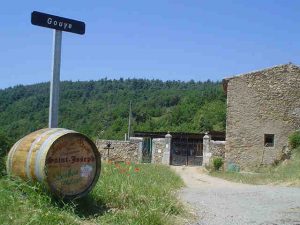 High above the village of Saint-Jean de Muzols, you'd be forgiven if you felt you'd stepped into another century. Vines stand proud on a steep hillside, individually staked and bound by ribbons of straw tied by family hands. The only sound aside from the wind through the trees is the determined step of Ramses, a plow horse, as he pulls his way through each vine row.
In the cellar of the Desbos family, a vertical press from the year 1886 stands ready for the next harvest. And when that time comes, it's all hands on deck, family and friends, helping to pick the grapes and stomp them with bare feet in ancient wooden fermentation vats.
At Domaine de Gouye, winemaking follows time-tested tradition not because it's romantic but because it's the "most efficient," says winemaker Philippe Desbos, the third generation of his family to craft Syrah wines from this windswept perch. From the family's rustic stone house, one enjoys a breathtaking vista of the meandering Rhone River and to the east, the noble hills of Hermitage.
We went looking for a taste of Syrah d'antan—flavors pulled from the earth with no makeup or modern frills—and found it at Domaine de Gouye. Peppery spice, blackcurrant leaf, fresh and tangy black fruit as taut as a bow string: this is the essence of high-altitude, northern Rhône Syrah.
FARMING & WINEMAKING
The Desbos family practices sustainable farming, adhering to organic practices as much as possible and shunning treatments unless absolutely necessary. Crucially, the family uses nearly no herbicides as they plow their vineyard rows by horse, a gentle practice that helps to eliminate undesirable weeds and aerate the soil.
Grapes are harvested by hand, and are crushed by foot in ancient wooden fermenters, and then fermented on indigenous yeasts. Full-cluster fermentation helps the family build a "cake" of skins for their 130-year-old vertical wine press, a laborious process you can witness here (in French).
Wines are aged either in tank (for the family's Vin de Table Syrah) or in older French oak barrels (for their Saint-Joseph Rouge). Wines are bottled unfined and unfiltered.
Saint-Joseph Blanc
Philippe Desbos cares for just a few acres of Marsanne vines high up in the hills, overlooking the Rhone River. Here cool winds and death-defying slopes combine for a pure, 100% Marsanne wine of verve, energy and sun-kissed fruit. Melons, white flowers, white peaches. The perfect sipper for a warm afternoon.
Download fact sheet (PDF)
Vin de France Syrah 'Gabouillon'
A pure Syrah wine from a vineyard high up on a cool plateau, above the appellation of Saint-Joseph. Lighter in alcohol but chock-full of flavor; this is the true essence of northern Rhône Syrah, with a touch of peppery spice and herbs, gorgeously layered and tangy black fruit flavors.
Download fact sheet (PDF)
Saint-Joseph Rouge
A full-bodied, juicy and layered wine, with an irresistible energy and spicy kick with each and every sip. Pure northern Rhone Syrah just doesn't get any better than this.
Download fact sheet (PDF)
Saint-Joseph Rouge Cuvée Vieilles Vignes
Winemaker Philippe Desbos selects fruit from his oldest Syrah vines, some as old as 100 years, for this special cuvée. The estate's same non-interventionist approach applies: fruit crushed gently by foot, very little added sulfur, aged in neutral barrels.
Download fact sheet (PDF)