Domaine de la Pousse d'Or
Volnay | Côte de Beaune | Burgundy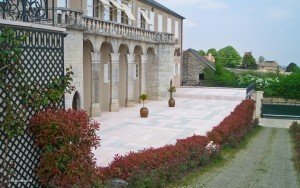 Domaine de la Pousse d'Or
has for decades been the collector's choice for expressive and memorable wines from Burgundy's most hallowed terroirs.
This historic estate is one of the Burgundian elite, in a similar realm of such exclusive wineries like Romanée-Conti and Comte de Vogüé, with its strict selection and seamless winemaking.
The history of Pousse d'Or in Volnay underscores its influence throughout the ages. In 1855, the winery was part of a larger domaine that included such names as Romanée-Conti and Clos de Tart. Originally called La Bousse d'Or (Bousse, in old French, means earth; thus, "golden earth"), the domaine changed owners a number of times until legend Gérard Potel took the reins.
It was Potel that put the estate's wines on the map, with the elegant, refined style that Pousse d'Or is still known for today. In 1997, Patrick Landanger purchased the winery and its vineyards. In the mid-2000s, Landanger added an impressive collection of Côte de Nuits vineyards (from Domaine Moine-Hudelot) to his portfolio.