Domaine de Panisse
Courthezon (Châteauneuf-du-Pape) | Rhône Valley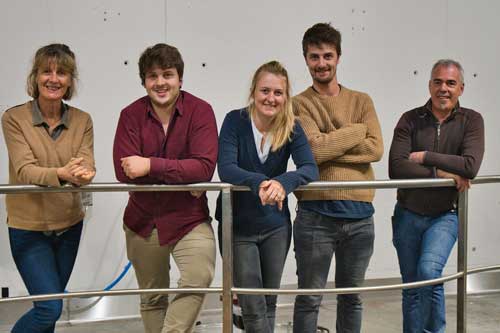 Three young winemakers, driven by a deep respect for tradition and a solid vision for the future, are writing a new chapter in the grand history that is Châteauneuf-du-Pape. The wines of Domaine de Panisse—elegant, balanced, inspired red blends—are indeed the breath of fresh air that this southern appellation requires amid a changing climate.
Winemaker-siblings Marilou and Axel Vacheron and partner Antoine Robert took over the 15th century farmhouse and older-vine vineyards at Panisse in 2020. Here in the far northeast corner of the appellation, this terroir pearl had yet to reach its full potential.
Ancient Grenache, Syrah, Mourvèdre and Cinsault vines fan out from the main house like a clock, allowing these conscientious growers to not just benefit from consistent soils and exposition but also tend to each vine and row as if it was their personal garden. Some of the vineyards were planted in the 1920s, now more than 100 years old. In fact, Panisse's oldest-vine parcel, located in lieu-dit 'La Janasse,' is also home to Domaine de la Janasse's oldest vines, usually reserved for its special (and rare and expensive) older-vine blend.
Yet one doesn't need famous neighbors to craft exemplary wines, of course. Panisse is well on its way to joining the upper ranks of Châteauneuf greats all on its own.
The surrounding area—with cypress and pine trees, fields of lavender and olive trees—helps to maintain a rich biodiversity which feeds the soils and keeps vineyards healthy. What's more, the mix of terroir here, with sand and clay and large quartz stones, is particularly drought-resistant, a necessary trait amid ever warmer growing seasons.
Panisse wines surprise with their lift and energy, all the while delivering the soul and substance of the south—dark fruit and spice, wild herbs and lavender perfumes. Balance and elegance are two characteristics that define these blends—not too different from the wines of Le Clos du Caillou, the award-winning estate from which this new generation hails. (Sylvie Vacheron is the mother of both Marilou and Axel; both were trained by Caillou winemaker Bruno Gaspard.)
FARMING & WINEMAKING
The estate totals some 16 acres of land, nearly half of which sit within the Châteauneuf-du-Pape appellation's far northeast corner. The rest of the estate includes vineyards rated Côtes du Rhône, as well as lavender fields, olive trees and cypress trees.
Vines, many of which were planted in 1924, are cared for sustainably, according to both organic and biodynamic practices; the estate is in the process of becoming certified. Estate terroir combines silty and sandy soils, with some clay and large quartz stones. Importantly, much of the land appears drought resistant, a boon in ever-warmer growing seasons.
Grapes are harvested by hand in small crates, and currently are being brought to the cellars at Le Clos du Caillou (just five minutes to the south) to be vinified. Grapes are fermented on indigenous yeasts in temperature-controlled tanks (either stainless steel, cement or tapered wooden casks). Wines are aged in demi-muid or barrel for approximately 15 months. Wines are bottled unfined and unfiltered, with minimal added sulfites.
Côtes du Rhône Rouge 'Le Mazet'
Châteauneuf-du-Pape Rouge 'Le Mas'
A bold red and a beautiful tribute to the elegance and silk of very old-vine Grenache! The estate's Châteauneuf vineyard surround the centuries-old farmhouse like a clock; here Grenache, Syrah, Mourvèdre and Cinsault are farmed and then blended. (This region, the lieu-dit 'La Janasse,' is also home to Domaine de la Janasse's oldest vines.) Many vines were planted in the early 1920s.