Domaine des Braves
Régnié | Beaujolais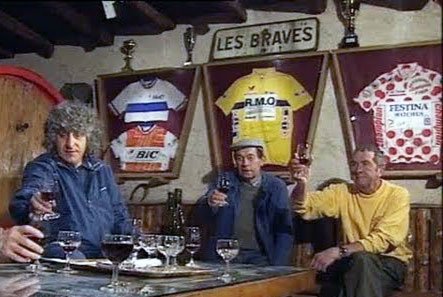 Régnié (say reh-NYAY) is one of Beaujolais' more harmonious crus, combining the floral perfumes of neighboring Brouilly with the complex, black-fruited flesh of Morgon.
Like so many winemaking families, the Cinquins have passed the winemaking torch from father to son for four generations. Today it is the founder's great-grandson, Franck, who ably cares for the family's many older Gamay vines.
Yet it was Franck's father Paul who in the 1970s repurchased much of the prime Régnié terroir that established Domaine des Braves as one of the region's leading estates. Paul, known locally as "Paulo," was also an award-winning cyclist in his time; in the family's cellars, older foudre share space with cycling tricots and trophies.
FARMING & WINEMAKING
The family's vineyards sit at 900 feet in altitude on a stony plateau, facing full south. Soils are sandy, with sub-soils a mix of pink granite and limestone. This combination results in wines that are supple and textured, with refined tannins. Vines are on average 45 years old, and are cared for according to "lutte raisonée" principles, following organic practices and avoiding chemical treatments.
Grapes are harvested by hand, fermented on indigenous yeasts and aged in temperature-controlled, stainless-steel tanks. Wines are bottled unfined and unfiltered.
Régnié
An elegant, full-bodied cru Régnié. Sourced from older vines and aged completely in tank, preserving Gamay's bright, red raspberry fruit.
Download fact sheet (PDF)
Régnié 'Macrinus' Cuvée Anne-Virginie
This is a richly endowed, full-bodied Gamay from a selection of vines from a south-facing vineyard, 'Les Braves,' located on a plateau. 'Macrinus' was a Roman emperor; the Cinquins found in their vineyards an ancient coin stamped with his profile.
Download fact sheet (PDF)