Domaine Eve et Michel Rey
Vergisson | Mâconnais | Burgundy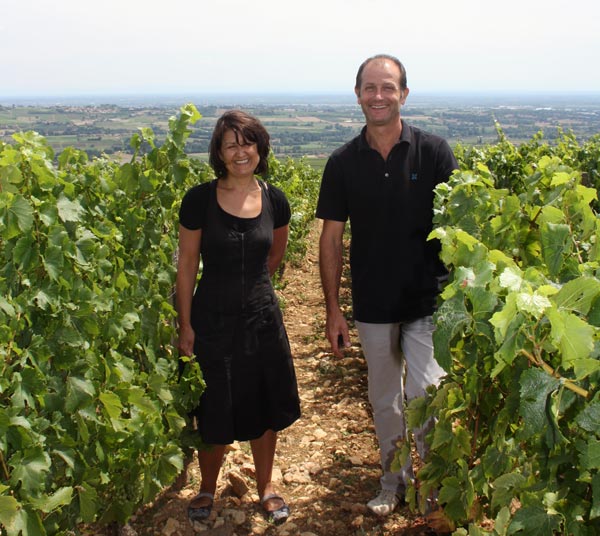 Eve and Michel Rey produce natural, honest white Burgundy in miniscule quantities from the finest terroir in the Mâconnais. Their "La Roche" vineyards—Mâcon-Vergisson and Pouilly-Fuissé—are not only the highest vineyards in their respective appellations but also deliver the purest expressions of Chardonnay in the region, bar none.
The Reys moved to Vergisson in 1988, as Michael was hired as a vineyard manager for a regional winemaker. Bit by bit, the couple saved their money and purchased small yet select parcels whenever they could.
From the soil to the cellar, Michel and Eve do everything by hand, and it's just the two of them—such diligence and dedication is what makes their bottles so special. They don't have tons of vineyards; they don't overextend. Through hard work and savvy winemaking, this duo is mentioned now in the same breath with Vergisson's leading artisans, such as Daniel Barraud and Jean-Marie Guffens.
Every time we visit the Rey's cellars—their modest winery offers a breathtaking view of the Vergisson valley—we are struck at how what's in our glasses so faithfully mirrors the majesty just outside their cellar door. While the word "artisan" is so often bandied about in wine, it is winemakers like the Reys who are true artisans, crafting with four hands works of vinous art, each and every vintage.
FARMING & WINEMAKING
Eve and Michel Rey care for their vines as naturally as possible, and because they have so few vineyards, they're able to care for all their vines by hand. They only use organic treatments, if treatments are needed at all, and plow the soil instead of using herbicides.
Grapes are crushed whole cluster in a gentle pneumatic press, and fermented on indigenous yeasts in temperature-controlled, stainless steel tanks. Wines are aged for a minimum of 10 months in mostly older French oak barrels.  Very little sulfur is added at any stage; and wines are bottled unfined and unfiltered.
Mâcon-Vergisson 'La Roche'
Older vines and pure limestone soils, not to mention the plot's perch at the top of the "rock" of Vergisson, put this vineyard among the region's finest. Lively, citrus-lined and beautiful balance.
Download fact sheet (PDF)
Pouilly-Fuissé 'En Buland'
Located on the higher slopes of the Roche de Solutré (one of two ancient reefs that mark the dramatic landscape of Vergisson), 'En Buland' faces northwest. Older-vine fruit from this high-altitude, cooler site is bright and racy, with intense citrus aromas and flavors. 
Download fact sheet (PDF)
Pouilly-Fuissé 'La Maréchaude'
The 'Maréchaude' vineyard is a south-facing, steep hillside vineyard on the slope of the Roche de Vergisson. Aromas of grapefruit and lemon zest, fresh nuts, light smoke. Plush white fruits balance a lively acidity.
Download fact sheet (PDF)
Pouilly-Fuissé 'Les Crays'
High up on the slopes of the roche de Vergisson, 'Les Crays' faces full south on a serious grade, soaking up the sun's rays. This results in a full-bodied, plush white Burgundy with intensity and poise, its mineral energy mainlined from the plot's pure limestone soils. 
Download fact sheet (PDF)
Pouilly-Fuissé 'Aux Charmes'
A lovely and plush white Burgundy with a cool-character, citrus core. 'Aux Charmes' faces west in the village, not far from 'En France.' Its pure clay soils work to contribute a silky, mouth-filling texture to this lively white wine. 
Download fact sheet (PDF)
Pouilly-Fuissé 'Sur La Roche'
At the summit of the "rock" of Vergisson, vines in 'Sur La Roche' have one of the best views around — and produce one of the appellation's most riveting and complex wines. Here pure limestone soils are poor and chock-full of fossilized material, the perfect food for a Burgundian Chardonnay that is all energy and elegance.
Download fact sheet (PDF)
Pouilly-Fuissé 1er Cru 'Les Crays'
As of the 2020 vintage, this sunny, full-south-facing vineyard slope was raised to premier cru status — a mark of quality that was well-known to fans of this full-bodied, sumptuous and very cellar-worthy white Burgundy now for years. The Rey's diligent vineyard work and careful vinification remains the same for what is, year in and year out, one of our top selections from this micro-domaine. 
Download fact sheet (PDF)
Established: 1988
Winemakers: Eve and Michel Rey
Region: France • Burgundy • Mâconnais • Vergisson
Vineyard size: 10 acres
IN ORGANIC CONVERSION (PDF)
The apotheosis of Mâconnais wine stands shoulder to shoulder with those of the Côte d'Or…you can bet your bottom dollar that the tip-top Mâcon would embarrass several hallowed premier crus and perhaps even the occasional slipshod grand cru.