Domaine Guy Robin et Fils
Chablis | Burgundy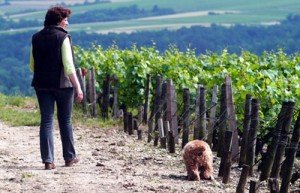 In the early 2000s, Marie-Ange Robin had a choice. Stay in Paris and pursue a successful career as a fine art dealer, or return home to Chablis and take the reins of the family winery. Her decision would not only change her family's fortunes but also preserve a critical piece of Chablis history.
Domaine Guy Robin et Fils today is a winery reborn. Marie-Ange represents the fourth generation of vine growers in the family. It was her father Guy who slowly, parcel by parcel, built up the family estate; yet it is Marie-Ange who has brought this winery to a level of greatness for which it was always destined.
Marie-Ange remembers her parents planting the family's vines in the late 1950s and 1960s, at a time when other defeated Chablis growers were leaving the village in droves, exhausted by the hard work (and repeated destructive frosts) of this northern wine region. But Marie-Ange's parents persevered.
Because of her family's efforts, Domaine Robin today claims the most premier and grand cru vineyard land (second only to neighboring William Fevre) – not to mention some of the oldest Chardonnay vines – in Chablis. And as a result, Robin Chablis across the board has a seductive, textural quality to it; they are unctuous, weighty, serious Chablis wines.
In short, there are few other estates that promise old-vine Chablis wines of such character and complexity, for such reasonable prices.
"For two good reasons, I probably own more Chablis than any other white, and I probably drink it more often than any other wine. One, it's a relatively good value for Burgundy, and two, I love it."

–Eric Asimov, The New York Times
FARMING & WINEMAKING
Marie-Ange Robin practices sustainable farming, avoiding chemical treatments and following organic practices as much as weather conditions allow. Some 80% of the estate's vineyards are planted with older vines; in fact, estate vines in grand cru 'Blanchot' are some of Chablis' oldest, at 80 years old.
Grapes are harvested by hand, then pressed and fermented on indigenous yeasts in temperature-controlled stainless steel tanks or in older French oak barrels. Wines are aged in mostly older barrels for one year, with approximately 10% new barrels per vintage.  Bottled unfined and unfiltered.
Chablis Vieilles Vignes
The family's old vines sit at the top of the slope between premier cru vineyards 'Montmains' and 'Vaillons.' This is the heart of Chablis! So much "basic" Chablis is grown from miles away from the appellation's top vineyards, but this wine hails from the same soils as premier crus; it considers grand cru vineyards as its neighbors.
Download fact sheet (PDF) 
Chablis 'Cuvée Marie-Ange Robin' Vieilles Vignes
Named after winemaker Marie-Ange, the daughter of Guy Robin who assumed the reins of the estate in 2004. Under Marie-Ange, this "sleeper" Chablis powerhouse has come into its full potential! A special selection of older vines that sit at the top of a broad slope facing premier cru vineyard 'Vaillons' in the heart of Chablis.
Download fact sheet (PDF) 
Chablis 1er Cru 'Montée de Tonnerre' Vieilles Vignes
The family owns some seven acres in this excellent premier cru vineyard that borders Chablis' grand cru row. Soils are known as "millefeuille," or many-layered, with white clay and fossilized oyster shells – very mineral.
Download fact sheet (PDF)
Chablis 1er Cru 'Vaillons' Vieilles Vignes
The family's older vines in the southwestern end of premier cru 'Vaillons' deliver a broader, more fruity but no less refined Chablis wine.
Download fact sheet (PDF) 
Chablis 1er Cru 'Montmains' Vieilles Vignes
This vineyard across the river from Chablis' grand cru row is perhaps the most faithful example of premier cru Chablis – mineral and fresh, with penetrating aromas and a full mouthful of sunny citrus fruit.
Download fact sheet (PDF)
Chablis Grand Cru 'Les Clos' Vieilles Vignes
If there is a starting point of Chablis, 'Les Clos' is it – this is the hallowed spot where savvy growers first planted grape vines in Chablis. Full-bodied, sultry, expressive: 'Les Clos' is the reigning queen of Chablis. The family's older vines sit right in the middle of this legendary grand cru.
Download fact sheet (PDF)
Chablis Grand Cru 'Blanchot' Vieilles Vignes
This peerless vineyard sits at the southern end of Chablis' famous grand cru row, at the mouth of a valley; facing east, 'Blanchot' allows grapes to ripen slowly and fully, this extra time delivering a Chablis of incredible depth and complexity. The Robin family's few vines here are some of the oldest in Chablis, many more than 100 years. Less than 1,000 bottles produced each vintage.
Download fact sheet (PDF) 
Chablis Grand Cru 'Valmur' Vieilles Vignes
A little more altitude, a little less soil, a whole lot more chalky energy and nervous energy. The family cleared land near the forest line to plant their vines here in the 1950s and 1960s. A gorgeous wine to watch evolve over the years.
Download fact sheet (PDF)
Chablis Grand Cru 'Bougros' Vieilles Vignes
Estate vines total just over one acre in this grand cru, at the western end of Chablis' grand cru row. In addition to Chablis' classic chalky soils, 'Bougros' also has more clay and marl, believed to give wines here a broader mouthfeel, with more texture.
Download fact sheet (PDF)
Chablis Grand Cru 'Vaudésir' Vieilles Vignes
A stunning yet often overlooked grand cru, 'Vaudésir' combines the best of all worlds: full-bodied, sunny flesh with a racy, sea-salty backbone, a wine equally suitable as an aperitif or a cellar treasure a decade or two down the line. Marie-Ange's older vines (just under a half-acre) here produce very little fruit, but what is harvested is always outstanding. A great cellar Chablis!
Download fact sheet (PDF)