Domaine Lancelot-Royer
Cramant | Champagne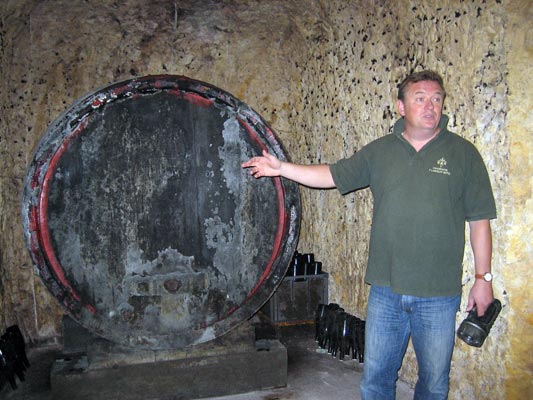 What you discover with
Domaine Lancelot-Royer
Champagne is not only the purest expression of Chardonnay-based wine in the Côte des Blancs but also a work of vinous art that has been meticulously guided from grape to glass.
Winemaker Michel Chauvet is one of the last artisans who chooses to craft his Champagne exclusively by hand, the way it was made in the early 1900s before machines replaced manual labor. While Chauvet certainly makes "grower" Champagne, his methods are so much more; if you seek truly authentic Champagne, Lancelot-Royer is the obvious choice.
It is this dedication to the lost traditions of Champagne that captivated us back in the 1990s when we first met Chauvet and witnessed as he painstakingly capped and labeled dozens of bottles by hand—wines too that he had personally riddled and degorged months before.
Lancelot-Royer is certainly one of the smallest domaines in Champagne, yet this is a boon for a craftsman as dedicated to quality as is Chauvet. Each bottle is uncompromisingly faithful to the lemony delicacy that characterizes Cramant and the crystalline purity of the finest blanc de blancs wines.
FARMING & WINEMAKING
Domaine Lancelot-Royer crafts "grower" Champagne, a récoltant-manipulant house that grows its own grapes and makes its own wine all on site. This qualitative difference is crucial for those seeking the ultimate in Champagne flavor and character.
All of Michel Chauvet's vineyards in Cramant are rated 100% Grand Cru and are all planted to Chardonnay, as is tradition in the Côte de Blancs. As Lancelot-Royer is one of the smaller Champagne houses, Chauvet is able to see to every winemaking step himself, performing each task by hand.
This dedication to hand-crafted Champagne is evident in the estate's cellars, a rough chalk cave that was carved out of the rock by hand, chisel strokes traceable on the cool walls. From harvesting to riddling to degorging to bottling, physical labor, not technology, is the rule at Lancelot-Royer.
Juice is fermented on indigenous yeasts in temperature controlled, stainless steel tanks. Wines undergo a second fermentation in bottle (méthode Champenoise) and are aged on fine lees from three to four years, much longer than most non-vintage wines. Chauvet reserves nearly a third of each harvest as reserve wine, which contributes to the richness and complexity of his non-vintage cuvées. Wines are bottled by hand, unfined and unfiltered.
Blanc de Blancs Grand Cru Brut Nature 'Cuvée des Chevaliers'
The same lovely, lithe grand cru Chardonnay Champagne as the estate's regular 'Cuvée des Chevaliers,' yet with no added dosage. What a thrill to taste the pure chalky soils of Cramant in every sip! Refined, lacy, sublime.
Download fact sheet (PDF)
Blanc de Blancs Grand Cru Extra Brut 'Cuvée Dualissime'
A refined Champagne that highlights the "dual" nature of two perfect grand cru villages: Avize and Chouilly (which bookend Cramant, winemaker Michel Chauvet's home village). Here richness and finesse come together effortlessly; pure fruit enhanced by the region's chalky soils are allowed to sing with just a hint of dosage (extra brut; 4 grams/L). A grand wine for the best cuisine. 
Download fact sheet (PDF)
Blanc de Blancs Grand Cru Brut 'Cuvée des Chevaliers'
Pure grand cru Chardonnay from the chalky, cool soils of Cramant in the Côte de Blancs. Lemon curd, lightly toasted brioche, green tea highlights. Long, savory and seductive; a captivating non-vintage wine that can age with the best of vintage bottles. Generally winemaker Michael Chauvet adds 30% reserve wine, for even more complexity and texture.
Download fact sheet (PDF)
Blanc de Blancs Grand Cru Brut Millésime
The quintessential blanc de blancs style, with delicate aromas of wild flowers, a lacy, lemony core of tangy fruit and a silky finish. Pure grand cru Chardonnay aged from six to seven years on fine lees.
Download fact sheet (PDF)