Le Clos du Caillou
Courthezon (Châteauneuf-du-Pape) | Rhône Valley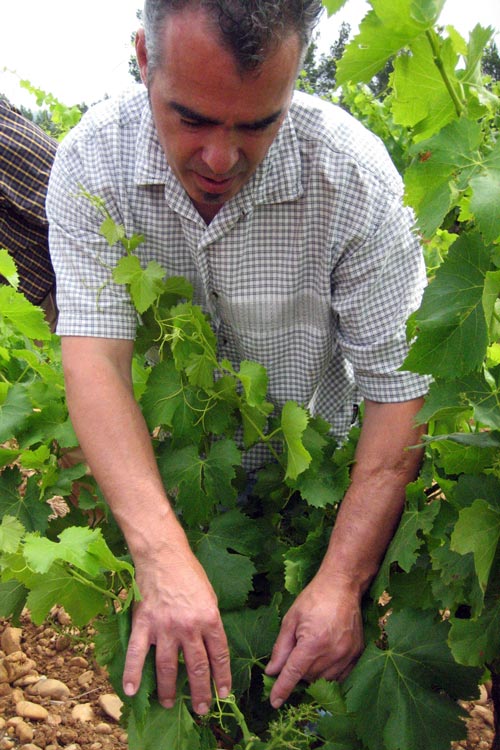 Wines from
Le Clos du Caillou
are Rhône blends at their most intense
.
Concentrated and richly textured, these organically raised, older-vine wines capture the spice and silk of old-vine Grenache grown on the region's finest terroirs. Each wine too reflects the native perfumes of the south, the "garrigue" blend of thyme, rosemary and lavender that grows wild among the estate's vines.
Of all the terroir in the Côtes du Rhône appellation, the "clos" of Caillou has to be one of the most exceptional. Completely surrounded by Châteauneuf-du-Pape vineyards, this walled parcel of land was intentionally left out of the appellation by the owner, following a bureaucratic spat back in 1936. What this means today is that Caillou's Côtes du Rhône wines are the qualitatively the same, with regard to terroir and exposition, as top Châteauneuf wines.
Caillou's devotion to the character of the land (through bottling wines according to terroir) and its dedication to organic and biodynamic viticulture are what captivated us so many years ago when we first encountered these wines; and over the years, this fidelity to soil and soul has only intensified.
FARMING & WINEMAKING
The estate in Courthézon, in the northeastern part of the Châteauneuf-du-Pape appellation, boasts a mix of terroirs with a predominance of sand, which gives Caillou wines their silky elegance and fine-grained texture. Importantly, the "clos," or walled portion of the estate where vines for Côtes du Rhône wines are grown, shares the same terroir with Caillou's Châteauneuf-du-Pape vineyards. The estate has been practicing biodynamic viticulture since 2003, and was certified organic as of 2010.
Grapes are harvested by hand and manually sorted in both the fields and at the cellar, then partially destemmed and fermented on indigenous yeasts in cement tanks. Wines are aged in a combination of large foudre, demi-muid and barrel, depending on the wine and the vintage, for approximately 15 to 18 months in the estate's cool underground cellars, and are bottled unfined and unfiltered.
Côtes du Rhône Blanc 'Bouquet des Garrigues'
A richly flavored and layered white blend cultivated within the estate's "clos" or stone walls, on classic terroir that's basically Châteauneuf quality. The wine's aromas in particular capture the regional garrigue, or blend of lavender, wild thyme and rosemary, hence its name: a "bouquet" of wild herbs.
Châteauneuf-du-Pape Blanc 'Les Safres'
A supple, silky and wonderfully long-lived white blend from lieu-dits 'Bedines' and 'Pignan,' vineyards best known for their sandy soils, which contributes to the wine its supple, velvety texture. This rare and limited white is always a seductive draught of the finest of the south!
Côtes du Rhône Rosé
Côtes du Rhône Rouge Vieilles Vignes Cuvée Unique
A North Berkeley exclusive. With the help of winemaker Bruno Gaspard, we select the finest lots of older-vine wines from the estate's cold underground cellars for this special blend. Spicy, sultry and even age-worthy; always too easy to enjoy.
Côtes du Rhône Rouge 'Esprit Nature'
Leave it to our friends and biodynamic pioneers at Caillou to double down when it comes to being utterly natural! 'Esprit Nature' is a no-sulfur added red blend, dominated by old-vine Grenache and fermented semi-carbonic as to preserve every bit of Grenache's fresh and joyful, red berry fruit. Lots of energy and lots of creamy silk, a true 'vin de soif.'
Download fact sheet (PDF)
Côtes du Rhône Rouge 'Les Quartz'
The region's "galets roulés," or large quartz river stones, are a common sight in Châteauneuf's finest vineyards. These stones, a legacy of the former path of the Rhône River, absorb heat during the day and release it slowly overnight. This wine comes from the estate's "clos" or ancient walled vineyard, which shares similar terroir and exposition as estate Châteauneuf plots.
Côtes du Rhône Rouge 'La Reserve'
A blockbuster wine, in spirit as heady and concentrated as its "bigger" brother grown on the "other" side of the estate's "clos" or vineyard stone walls.  Sandy soils give this blend of Grenache and Mourvedre a supple texture; blackberries, plums, wild strawberries.
Châteauneuf-du-Pape Rouge 'Les Safres'
The estate's silkiest, most suave Châteauneuf-du-Pape, composed primarily of older-vine Grenache. 'Safres' refers to the wine's terroir of compacted sand, which in the wine translates as a supple texture and smooth tannins. Bold red fruits and endless spice are a nod to the great old-vine Grenache cultivated by this excellent organic winemaking estate.
Châteauneuf-du-Pape Rouge 'Les Quartz'
The region's "galets roulés," or large quartz river stones, are common in Châteauneuf's finest vineyards. Left behind in the former path of the Rhone River, these stones absorb heat during the day and release it slowly in the evenings, resulting in perfectly ripe grapes that create a structured, mineral-rich wine.
Châteauneuf-du-Pape Rouge Réserve
The estate's top blend, made from its oldest Grenache and Mourvèdre vines, and only in the finest of vintages. Silky yet powerful, this wine can (and should) be aged for years to experience all its glory and energy! An award-winning blend that is consistently named one of the reds of the vintage, year in and year out.
Established: 1956
Winemaker: Bruno Gaspard
Region: France • Rhône Valley • Courthezon
Vineyard size: 132 acres
CERTIFIED ORGANIC (PDF)  |  PRACTICING BIODYNAMIC
…this estate continues to make polished, elegant wines that have a slight modern edge, while never losing their Provençal character.