L'Erta di Radda
Radda in Chianti | Tuscany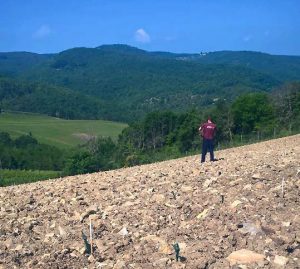 Winemaker Diego Finocchi is a one-man winery, caring for 12 acres of "mountain" Sangiovese amid the wooded hills and steeply graded valleys of Radda in Chianti, the heart of the Chianti Classico zone.
A trained enologist and native son who established his estate in 2006, Diego seeks to "make wines that are as faithful as possible" to the true character of Radda.
That essence—stony and pure, brimming with bright fruit and lively acid, tailor-made for fine cuisine—is what you'll find in each bottle of Diego's organically raised wines.
Inspired by Radda's serious hills and inspiring views, Finocchi named his estate "L'Erta di Radda," or the "steep slopes of Radda."
FARMING & WINEMAKING
The estate tends 12 acres of vineyard land near the village of Radda in Chianti, part of the Chianti Classico zone. This area is very hilly and surrounded by nearly 15 acres of forest land; vineyards sit between 1,050 and 1,200 feet above sea level and face southeast. Soils combine galestro (a compacted clay) and hard alberese rock.
The vineyards were originally planted in 1967 to Sangiovese (about 90% of vines), Canaiolo, Trebbiano and Malvasia. In 2006 and 2009, some five acres were replanted.
The estate began working organically in 2006, and was officially certified in 2015.
Grapes are harvested by hand in small crates, with red grapes usually in early October and white grapes in late September. Fermentation happens spontaneously on indigenous yeasts. Red wines are aged in either older barrel or cask.
Toscana Bianco
Fresh and racy, this field blend of Malvasia and Trebbiano is the perfect aperitif, born on the mineral-rich soils of high-altitude Radda in Chianti. Citrus zest, green apple, fresh herbs.
Download fact sheet (PDF)
Toscana Rosso 'Due & Due'
A special wine that looks back at traditions from the 1800s in Tuscany, when winemakers would harvest both red and white grapes for their "Chianti" wines. Winemaker Diego Finocchi ferments his grapes — Sangiovese and Caniolo, Malvasia and Trebbiano — together. He then adds naturally dried white grapes to the wine to extend its fermentation, and in doing so, adds more body and aromatic complexity to the final wine. This method, today generally known as appasimento, in nineteenth-century Tuscany was known as "Governo all'uso Toscano" and was a commonly used process to enrich Chianti wines. Technical details aside, Due & Due is a thrilling red, with body and soul, and tons of thirst-quenching pleasure.
Download fact sheet (PDF)
Chianti Classico
A racy and fresh Chianti Classico wine and perfect example of the stony energy of Sangiovese from Radda in Chianti. These high-altitude vineyards are a paradise — and cultivated organically now for years — for Tuscany's native red grape. The bright acid and juicy balance of this perfect Chianti Classico wine makes it all but irresistible. Yet more proof that the best Chianti Classico wines are some of the best food wines in the world!
Download fact sheet (PDF)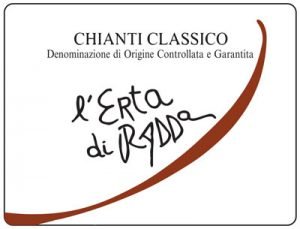 Chianti Classico Riserva
A step up in intensity and purity. Winemaker Diego Finocchi ages this single-vineyard, 100% Sangiovese wine for two years in traditional oak cask. A perfect example of the cut and poise of high-altitude Chianti Classico from Radda! A delicious, soulful example of the best these mountainside vineyards can give.
Download fact sheet (PDF)
Established: 2006
Winemaker: Diego Finocchi
Region: Italy • Tuscany • Radda in Chianti
Vineyard size: 12 acres
CERTIFIED ORGANIC
Limited to one word to describe this wine, I'd say 'energetic.' … While there's an earthy element in stony minerality, this wine seems to reach for the sun with its brightness.