Domaine Paul Durdilly et Fils
Le Bois d'Oignt | Beaujolais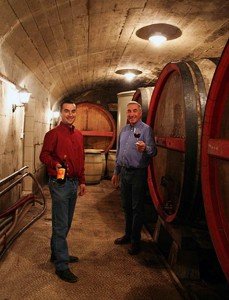 When does a non-cru Beaujolais wine taste and age like a fine Burgundy? When it's crafted by a talented winemaker such as
Paul Durdilly
from Le Bois d'Oignt in southern Beaujolais.
Durdilly's 'Les Grandes Coasses' is hands-down one of the finest "basic" Beaujolais wines you can find for the money; but honestly, there's little that's basic about it. Le Bois d'Oignt's terroir secret is that many of its vineyards have soils that are pure limestone, the same "mother rock" of the Côte d'Or.
Which is why Gamay grown on Durdilly's older-vine, high-altitude vineyard slopes is always refined and supple, with a complexity of flavor that will make you think Vosne, or even Chambolle—and then make you rethink everything you thought you knew about Beaujolais.
We've been coming to Paul's family cellars for nearly three decades, to taste and be dazzled by the quality that these beautiful hills and humble man can deliver. What's more, we've pulled bottles of 'Les Grandes Coasses' from our cellars after 10 to 15 years and have been astounded at the wine's silky texture and freshness of fruit, even after so long.
While there has never been a better time to rediscover Beaujolais, market pressures have taken their toll on the region. As defeated winemakers pull their old vines from the soil and abandon their life's pursuit, an art is being lost, an impeccable terroir betrayed. Artists like Durdilly stand as a sentinel to what Beaujolais can and should be, and what we need to preserve.
FARMING & WINEMAKING
Paul Durdilly cares for his some 20 different small parcels of vines in and around Le Bois d'Oignt according to "lutte raisonée" principles, avoiding treatments whenever possible. Nearly half the region's soils are limestone, similar to the Côte d'Or, rather than the typical Beaujolais granite. Durdilly's vines are mostly older, from 40 to 80 years.
Grapes are harvested by hand and fermented on indigenous yeasts in cement tanks. Wines are aged in a combination of tank and older, large foudre, and then bottled unfined and unfiltered.
Bourgogne Blanc
Winemaker Paul Durdilly's high-altitude vineyards in Bois d'Oignt benefit from a high concentration of limestone, just like in Burgundy proper. There's only one way to truly tell that this stunningly fresh, elegant Chardonnay doesn't come from Burgundy: its price.
Download fact sheet (PDF) 
Beaujolais Rouge 'Les Grandes Coasses - La Carrière'
A pure, refined Gamay wine with a Burgundian personality, grown on soils more common to Vosne-Romanée than Beaujolais. Violet aromas, silky tannins, ruby-red fruit.
Download fact sheet  (PDF)
Established: 1970s
Winemaker: Paul Durdilly
Region: France • Beaujolais • Le Bois d'Oignt
Vineyard size: 30 acres
PRACTICING SUSTAINABLE FARMING (PDF)